Antique Maps, Charts, Plans, Atlases, Globes & Cartographic Reference Books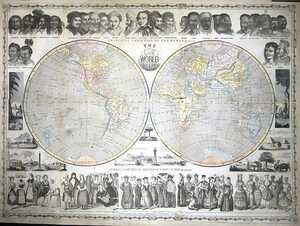 Welcome to Jonathan Potter's online gallery of antique maps, plans, charts and atlases.
A personal message from Jonathan:
Having traded in antique maps in London for almost 45 years, I have decided to move Jonathan Potter Ltd from the West End to the West Country, to Bath in fact, where I have lived for much of that time.
Bath, as many know, is a lovely town and I feel sure Jonathan Potter Ltd will continue to encourage new collectors, prove that antique maps can be fine, decorative and rare without being unaffordable, and, of course, continue helping existing customers with their map interests.
The move has been a long time coming as the longer a business remains in one place, the more it is expected to stay there. However, our website will remain just as active, the 'phone and email will still work and I'll look forward to seeing old friends and new collectors in Bath, at map fairs and at book fairs. Gallery details in Bath will follow in due course.
In the meantime, in order to make our relocation easier, until the end of June we are pleased to offer a 25% discount off all items of stock in the gallery and on the website. You will see the reduced prices on our stock on the website.
Best wishes,
Jonathan Potter, May 2015
Jonathan Potter's gallery is still situated at:
52a George Street, Marylebone
London, W1U 7EA
Mon-Fri: 1000-1800
Sat: 1000-1700
Original antique maps dating from the fifteenth century onwards are not just found in museums, but may be bought and collected without costing the earth.  Our maps can be purchased directly from this website. 

We've recently updated our Gift Map range, with a new selection of maps from £60 - £250.  Browse this selection using the button on the right - highlights include illustrated and uncommon maps of British counties, and detailed plans of popular holiday destinations such as Paris and Pompeii.
You can view our latest catalogue, with a great range of fascinating maps, by clicking 'Latest Catalogue' in the right-hand menu, or download the PDF version from our latest publications on the left.
Alternatively, please do feel free to visit our Gallery in George Street. You can also take a Virtual Tour of the gallery from our website, explore our stock and get a feel for how one of our maps would look on your wall.