Antique Maps, Charts, Plans, Atlases, Globes & Cartographic Reference Books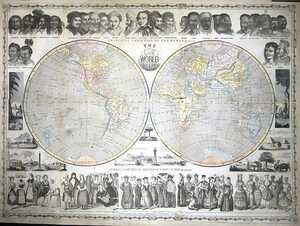 Welcome to Jonathan Potter's online gallery of antique maps, plans, charts and atlases.
A personal message from Jonathan:
After 45 years of selling antique maps in London, Jonathan Potter Ltd. has closed its doors to set about relocating from the West End to the West Country, to the glorious Georgian splendour of Bath.
The new gallery will be at 5 Margarets Buildings, Bath, BA1 2LP, an attractive pedestrianised street of interesting restaurants, galleries and shops, situated between the Royal Crescent and the Assembly Rooms.
We expect some disruption but hope to keep this to the minimum; we apologise for any inconvenience this may cause. We will hope to have telephone, email and internet operating as soon as possible and expect the gallery to be fully functioning by early September. Any orders for maps and books will be dealt with as quickly as possible but not, we expect, as quickly as usual so please bear with us. Please telephone or email us with any urgent enquiries or questions.
I look forward to welcoming you to the new gallery in due course.
Best wishes,
Jonathan Potter, July 2015